Abortion and Jewish Values Toolkit
This guide is for anyone interested in protecting abortion rights and access, from seasoned advocates to those newly introduced to how our Jewish values inform our work. Each section explores a different facet of this work. The background information provides a necessary context for understanding the specifics of the Jewish messaging resources and the intersection of abortion rights with other critical issues. We then invite you to take action on proactive federal legislation and to engage with NCJW as you advocate on your own, with your friends, and in your community.
Click on the thumbnail below or download the toolkit as a PDF.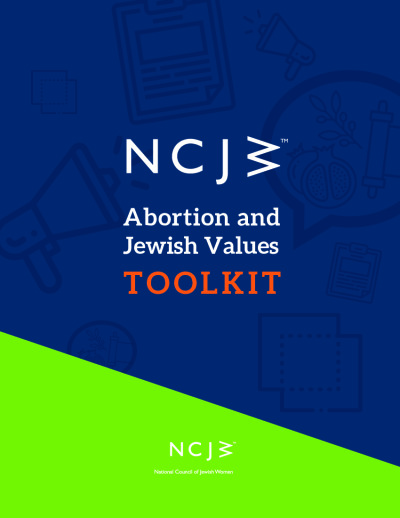 Share the Toolkit! We urge you to share the Toolkit far and wide — with your family and friends, with your social media network, with your rabbi and your lawmakers, and with partner organizations working on reproductive health, rights, and justice issues. Use the form below the toolkit to send an email to your lawmakers and find more sample language for social media and Rabbis here.
Take Action! Send the toolkit to your lawmaker and let them know abortion is a Jewish value.
*For DC residents, we continue working towards full voting representation in the US Congress. Click here to tell the Senate to make DC a state!